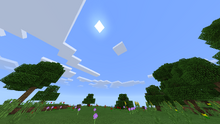 Beautiful Skies is a setting which is found in the Video Settings. Enabling Beautiful Skies will make Clouds, Stars, the Moon, and the Sun appear in Minecraft Pocket Edition. Turning it off does not usually effect game performance speed or reduce lag.
Toggling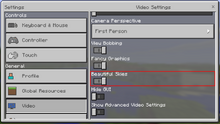 Go into the Pause menu.
Select Settings.
Select video settings.
Tap Beautiful Skies.
Trivia
With Beautiful Skies on the Player can find East and West during sunrise and sunset. However, North and South is not easy to determine, as the Sun progresses centered in the sky above the Player.
The Beautiful Skies option is useful in determining the Moon's phase since it can be used for determining when the Slimes are most likely to spawn.
Ad blocker interference detected!
Wikia is a free-to-use site that makes money from advertising. We have a modified experience for viewers using ad blockers

Wikia is not accessible if you've made further modifications. Remove the custom ad blocker rule(s) and the page will load as expected.