Cauldron



Type

Block

Tool Used

Stackable

Yes (64)

Luminosity

None

Transparency

Translucent

First Appearance

Update 0.14.0
A Cauldron is a Block that can hold more Water and Potions than Bottles. They were added in Update 0.14.0.
Obtaining
Cauldrons are primarily obtained by Crafting, however, they can also spawn in Witch Huts and Igloos. Cauldrons in Witch Huts hold Potions which Witches use and Cauldrons in Igloos contain water.
Crafting
Usage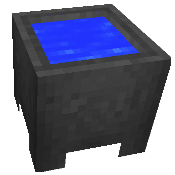 A Cauldron takes three Bottles of Water, a Water Bucket, or three Potions to fill. In turn, a full Cauldron can fill three Bottles. Water in a Cauldron can be colored with Dye. Cauldrons can also be filled with Rainwater.
Version Exclusives
Leather Armor and Leather Horse Armor can be dyed through Cauldrons. Each time 1/6 of the dyed Water in the Cauldron is used.
Arrows can also be tipped in Cauldrons containing Potions to create Tipped Arrows.
Trivia
Despite being made of Iron, it can be mined with a Wooden Pickaxe.
After Update 0.15.0, Players and Mobs are able to stand in Cauldrons and Hoppers and Items can be dropped inside them.
If the Player catches on Fire, Water in Cauldrons can extinguish it, using 1/6 of a whole Container each time.

This can be useful in the Nether since the Player can only put Water in Cauldrons.

Cauldrons will let light through, but they reduce the strength by 2 levels.
Ad blocker interference detected!
Wikia is a free-to-use site that makes money from advertising. We have a modified experience for viewers using ad blockers

Wikia is not accessible if you've made further modifications. Remove the custom ad blocker rule(s) and the page will load as expected.