Jungle Temple



Type

Generated Structure

Found in

Jungle Biomes

First Appearance

Update 0.15.0
Jungle Temples are Generated Structures that were added in Update 0.15.0. They can be found rarely in Jungle Biomes.
Structure
Exterior 
Jungle Temples are constructed mainly out of 
Cobblestone
 and 
Mossy Cobblestone
. The Temple has a 15x12 base of Cobblestone.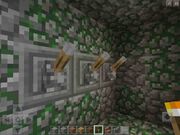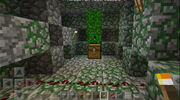 Interior
Jungle Temples consist of three levels on the inside. On the lowest level, there are 3 levers on Chiseled Stone Bricks. If the correct levers are pulled, a hidden room is exposed on the main level. There are two Chests available, one inside the walls where the Redstone is, and one on the bottom floor.
Danger
Through the hall, there is a trap consisting of Tripwire connected to a Tripwire Hook. The Tripwire circuit is connected to Dispensers.
Down the hall from the puzzle, there is a way to a Chest. The trap consists of 2 Tripwire lines connected to Dispensers with 2–14 Arrows, hidden behind Vines. The first Tripwire is in the beginning of the way; the second Tripwire is in front of the Chest.
Solving the Puzzle
Inside the temple, there is a wall with three levers on it. A chest is found on the other side along with some Sticky Pistons. There are two methods to solving the puzzle.
Method 1: Flick levers
To solve the puzzle, you must flick the lever closest to the stairs, then flick the lever farthest away from the staircase, then flick the lever closest to the stairs off, and then flick the lever farthest from the stair off. The middle lever is useless as it does not power anything. A piston trapdoor will have been opened above the wall and the Player may go inside to retrieve the items inside the chest. Notice that there will be no way out if you can't mine or Block jump your way out.
Method 2: Break it
An easier way to 'solve' the puzzle is to break the entire wall that holds the levers.
Treasure
A Jungle Temple can contain the following treasures:
Trivia
Ad blocker interference detected!
Wikia is a free-to-use site that makes money from advertising. We have a modified experience for viewers using ad blockers

Wikia is not accessible if you've made further modifications. Remove the custom ad blocker rule(s) and the page will load as expected.