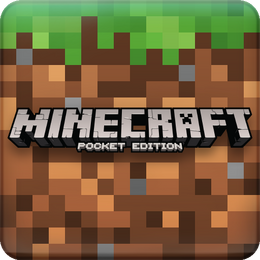 Minecraft Pocket Edition (also called Minecraft PE or MCPE) is a version of Minecraft created for mobile devices. The current version of Minecraft Pocket Edition is Update 1.1.5.
First Releases
Minecraft: Pocket Edition was released on the following dates for various devices:
A version for Hololens has also been announced but has not been confirmed.
Current Versions
Former
These platforms are no longer supported.
External links
Former
Diversity
Where as the PC version is written in Java, Minecraft Pocket Edition has been ported to C++ to function on mobile processors. Even though Android can support Java, since iOS is incapable of supporting Java, C++ is used for cross-platform compatibility.
Minecraft Pocket Edition developers have tried to make the game diverse from PC. A full list of Minecraft Pocket Edition exclusive features may be seen at Pocket Edition Exclusive Features.
Reception
Minecraft Pocket Edition has received critically favorable reviews, earning a 4 out of 5 on PCmag and a 7.5 out of 10 on IGN. It remains #1 for top paid apps on the App Store and is #15 for most grossing app overall.
Trivia
Amazon Fire TV is the first system to allow controller support with Minecraft Pocket Edition.
References
↑ http://www.windowscentral.com/minecraft-pocket-edition-will-no-longer-receive-updates-windows-mobile-devices
Ad blocker interference detected!
Wikia is a free-to-use site that makes money from advertising. We have a modified experience for viewers using ad blockers

Wikia is not accessible if you've made further modifications. Remove the custom ad blocker rule(s) and the page will load as expected.