Observer



Type

Block

Tool Used

Stackable

Yes (64)

Luminosity

None

Transparency

None

First Appearance

Update 0.15.0
The Observer is a Redstone-related Block that was added in Update 0.15.0.
Obtaining
The Observer can only be obtained through Crafting on a Crafting Table.
Crafting
Usage
The Observer block is a Block Update Detector (BUD) block that will send a short Redstone pulse if the block it is facing gets updated (mined, placed, opened, closed, etc.). They are placed like Pistons.
The Observer will detect block updates on the face of the larger red square. When placed, this will be the face furthest to the Player. Hence, the Player should look towards the Block where the Block updates will occur when placing an Observer.
Trivia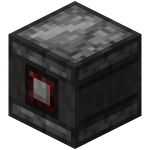 Ad blocker interference detected!
Wikia is a free-to-use site that makes money from advertising. We have a modified experience for viewers using ad blockers

Wikia is not accessible if you've made further modifications. Remove the custom ad blocker rule(s) and the page will load as expected.