Redstone



First Appearance
Redstone is an item added in 0.8.0. It is mined from Redstone Ore. It is used in various crafting recipes such as Powered Rails and Rails. It drops Redstone dust when mined from Redstone ore. Redstone may also be found in small quantities inside dungeon and mineshaft chests.
Obtaining
You obtain Redstone from Redstone Ore. Before 0.8.0 when mined, it would just break and not drop anything.
Crafting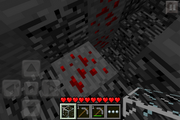 Clocks are made using 4 Gold Ingots and 1 Redstone.
Trivia
Presently, redstone cannot be placed on the ground as redstone dust.
In Minecraft PC and Console, Redstone is used to construct various curcuits to power devices.
In a future update, some, if not all redstone-related items will be added.
At the moment only redstone alternatives can be used.