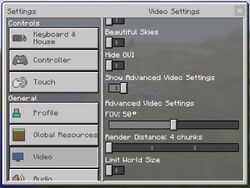 Render Distance is an option that can be set from the Video menu in Settings.
Function
Render Distance changes the number of Chunks that are visible from a distance at once. There are 2-7 possible settings for Render Distance:  
Minecraft Pocket Edition (Max):
5 chunks
8 chunks
10 chunks
12 chunks
14 chunks
18 chunks
22 chunks
Windows 10 Edition Only (Max):
5 Chunks
8 Chunks
16 Chunks
32 Chunks
40 Chunks
48 Chunks
52 Chunks
60 Chunks
Trivia
The fewer chunks that are included, the faster each frame can be rendered, resulting in a higher FPS and low lag.
After Update 1.2, the render disatance slider has been moved out from the 'Show Advanced Video Settings' box.
After Update 0.16.0, to change the Render Distance, the Player must check the 'Show Advanced Video Settings' box.
Before Update 0.8.0, the maximum render distance was very low, however, this has since been changed.
Gallery
Ad blocker interference detected!
Wikia is a free-to-use site that makes money from advertising. We have a modified experience for viewers using ad blockers

Wikia is not accessible if you've made further modifications. Remove the custom ad blocker rule(s) and the page will load as expected.