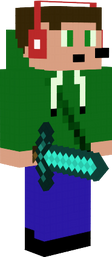 A skin is how you look to other players during multiplayer or yourself if you toggle third-person view. You can also see you your skin in first person but only your hand. Skins are not in PE yet. They were supposed to be added in 0.10.0 but may be added in a future update.
Trivia
It is possible to change skins by replacing the "char.png" in the Minecraft PE files.
Skins may be added in the 0.11.0 update.