Update 0.7.3 was an update for Minecraft Pocket Edition. It was released for Android and iOS on August 15th, 2013.
Additions
General
Animated background
Improved title screen
Realms can now be reset
When creating a world, the world name defaults to "My World."
Glowing Spider eyes
Blocks
Large Chests

Opening/closing animation for Chests

Wooden Slabs now burn.
Bug Fixes
Can't login to Realms.
Missing burning animation for Skeletons and Zombies when they burned in daylight (the Zombies and Skeletons emitted particles of smoke and slowly took damage like before Fire was re-added into Minecraft PE).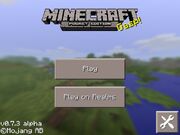 Trivia
There are three features in the menu background animation that were not yet added to PE or were different in PE being:

No 3D Clouds
Grass was darker and looked lusher in the game, as opposed to the animation.
No 3D Grass
Ad blocker interference detected!
Wikia is a free-to-use site that makes money from advertising. We have a modified experience for viewers using ad blockers

Wikia is not accessible if you've made further modifications. Remove the custom ad blocker rule(s) and the page will load as expected.