More 0.9.0 Info and Gameplay Here!
This article uses material from the Pocket Edition upcoming features article on the Minecraft Wiki.
Changes were made to the material upon placing it on this page.
Minecraft Wiki content is licensed under the CC BY-NC-SA 3.0 License.
You may not use the material on this page for commercial purposes.
This page is a work in progress.
Refrain from making major edits to this page until it is finished.
Update 0.9.0 was an update for Minecraft Pocket Edition. It was a mainly survival-oriented update and provided Pocket Edition with a bunch of new and exciting additions. It was the biggest update in Pocket Edition history. It was released on July 10, 2014 for all devices.
Features
Jungle
Roofed Forest
Mesa
Savannas
Taiga/Mega Spruce Taiga
Mushroom Island
Villagers

Have degraded AI which means they cannot trade or open/close doors nor breed yet
New Blocks
Hardened Clay and Stained Clay (Up to 16 colors)
Red Sand (in Mesa and Plateau Biomes)
End stone (creative mode only)
Packed Ice (Ice Spikes Biome)
Mob spawners
End Portal Frame

Does not take you to The End, only for decoration
Creative Inventory Additions
Items from past updates that will be added to the creative menu in update 0.9.0.
Plants
Items
Naturally Generated Blocks
Flowers
Technical Changes
Updated inventory and crafting screen, and stonecutter screen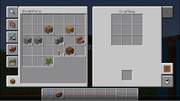 Invisible Bedrock gets removed If world is changed to Infinite
New textures for the tops and bottoms of birch, spruce and jungle wood
Biome-tinted Grass
Spiders are spawned by leaves, created a higher spawning rate of spiders in forests at night
World Generation
Option to select world type
Default
Superflat
Option to imput the world's seed
Ability to pick world sizes
All Confirmed
Other
New ways to obtain Nether-related items such as Mineshafts, Dungeons and Strongholds.
Gravel no longer falls from spawn
Beds will no longer restore health
Build 1
In a stream that was released of 0.9.0 build 1, we saw that cave generation was basically complete. Also, there were several new blocks and features like flowers and diorite. A few bugs were that trees could generate over water, and that the world starts with the player being one heart short of full health. The stream is here.
​References​