Ad blocker interference detected!
Wikia is a free-to-use site that makes money from advertising. We have a modified experience for viewers using ad blockers

Wikia is not accessible if you've made further modifications. Remove the custom ad blocker rule(s) and the page will load as expected.
Update 0.9.0 was an update for Minecraft Pocket Edition. It was a mainly Survival-oriented update and provided Pocket Edition with a number of new additions. The update was one of the biggest updates in Minecraft Pocket Edition history. It was released on July 10, 2014 for all devices.
Additions
Biomes
Jungle
Roofed Forest
Mesa
Savannas
Taiga/Mega Spruce Taiga
Mushroom Island
River
Generated Structures
Mobs
Passive
Neutral
Hostile
New Blocks
Creative Inventory Additions
Trees
Plants
Wood
Items
Naturally Generated Blocks
Flowers
Spawn Eggs
Technical Changes
Updated Inventory and Crafting screen, and Stonecutter screen
Invisible Bedrock gets removed if world is changed to Infinite
New textures for the tops and bottoms of Birch, Spruce and Jungle Wood
Biome-tinted Grass
New Gravel and Sapling texture
Spiders are spawned by leaves, created a higher spawning rate of Spiders in forests at night
World Generation
Option to select world type
Old
Default
Superflat
Option to input the world's seed
Ability to pick world sizes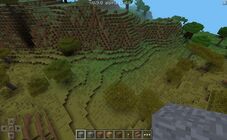 Old (same as current size)
Infinite
Superflat
Other
New ways to obtain Nether-related items in Mineshafts, Dungeons and Strongholds.
Gravel no longer falls from spawn
References